Please give generously...
...because there are only 12,000 Cheetahs left on earth
...because hundreds of thousands of elephants have been massacred for their tusks
...because only 5000 wild dogs survive
...because Africa's lion population has plummeted from over 200,000 to 20,000 in just 50 years
...because in the last 5 years gorillas have suffered an 80 to 90% decline in numbers
...because there are nearly 7 billion humans on earth and rising
...because the pressures on rural African communities to survive are huge
...because in the conflicts which result, between humans and wildlife, the wildlife always seems to lose
...because sometimes there are solutions in which both can benefit
...because these solutions are changing the prospects of wildlife and African communities for the better
...and because your donation will make a genuine difference to all their lives

To support us, click on the link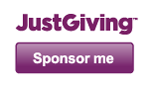 Protecting Wildlife Supporting Communities Promoting Education


We believe in taking responsibility for our own mad decisions which means the full cost of this adventure is being met by us.
100% of your donation will go to Tusk.
---
"In a world older and more complete than ours they move finished and complete, gifted with extensions of the senses we have lost or never attained, living by voices we shall never hear. They are not brethren, they are not underlings; they are other nations, caught with ourselves in the net of life and time, fellow prisoners of the splendour and travail of the earth." ~ Henry Beston, The Outermost House.